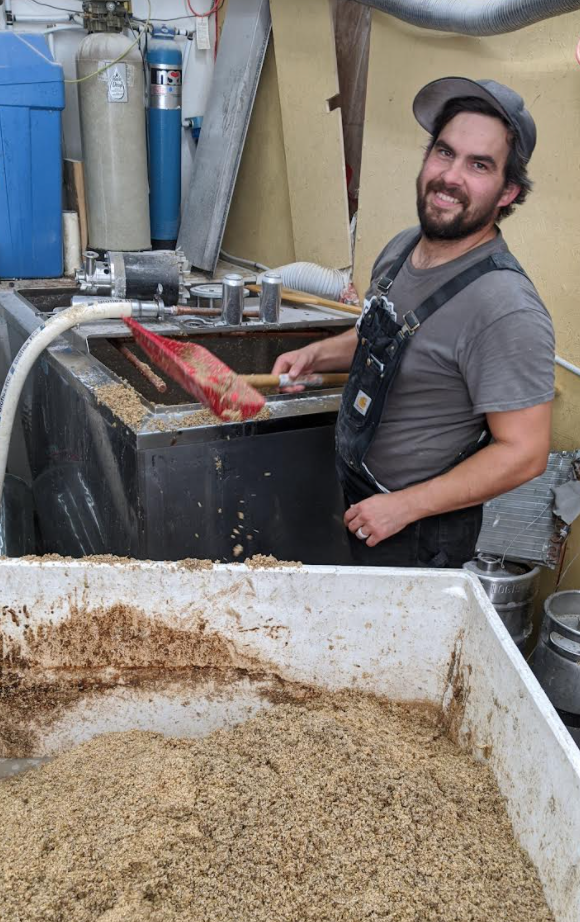 Nate on a brew
If you've followed the winery you probably know about my old neighbour in Carstentown Nate. He's got three great skills: he has an engineer brain, he's kind, and he makes beer.
When covid first hit in 2020, we spent a lot of time trying to sort out what it meant for our small businesses. At that time, Nate had adjusted his business model to attract customers to his tasting room where revenues from tap sales were much better than selling to liquor stores or restaurants. As you know, it didn't play out well for small businesses like Nate's that counted on people showing up.
Nate's immediate recourse was to supplement brewery income with engineering consulting work. For someone with a young family, it's a slippery slope: adding a second job to your full-time job. Especially when the effects of a pandemic linger on.
Nate's now in a transition period, working full-time as an engineer and making a change as business heads into the down season. Beer is still for sale. If you purchase it online and can't make it, I can hold it for you.
I especially like Nate's barrel program, which I haven't seen matched in Western Canada.
I once assisted with his Méthode Traditionnelle.
He texted me on a February afternoon to see if I was free at 7 because the temperature was good for Lambics. I told him yes and planned to meet him the next morning early.
That night I happened to be working at the winery and I saw the lights on at Nate's so I went over to visit. I helped him to set up a brew and we chatted. Only then was it clear that he meant work started at 7pm, so the wort could cool in a precise way overnight. So we worked most of the night in a February dreariness that reminded me of Brussels and continued the next day. Then the ferment worked away for over a year in a barrel. The beer was complex and clean. I've never tasted anything like it.
Also if beer nerdiness like this is of interest, you should contact Nate to talk about taking over his business. It could be the right fit for someone who has a few skills.
See you next Friday,
Tyler