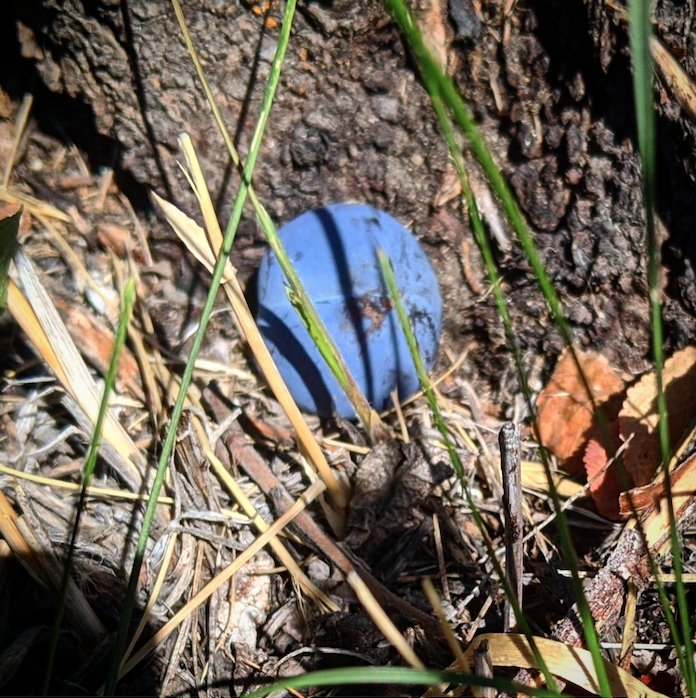 plum windfall tasting fine
The agriculture of note in this valley includes grapes, cherries, and apples. The climate is friendly to more crops, but it's rare you'll see a farming plan that doesn't involve popping in these crops and investing in the necessaries: tractors, general attachments, specialized implements, fencing, stakes or trellises, irrigation, soil inputs, chemicals, etc.
If you're growing these three crops, you'll get the support of the bank, the Ag Canada research station, trade organizations, and those selling to the industry. At some point in the past these crops generated big incomes, and apparently the money is still here.
I think at a large scale, these crops do make sense. Grapes become fine wine. Apples travel and keep well. Cherries are irresistible.
Few people will advise you not to grow the big three, but not many can give an opinion that isn't strictly dollars based; high land prices limit farmers' options.
On our farm, we have some vines growing, some bare land, and some old untended trees that supply us with a small harvest of plums.
We spend the season tending the vines, it's more than one full-time job, and in return we get an input that's valuable to the wine industry.
We do nothing to our plums, and if you pick them off the tree they don't taste great. But once they fall on the ground, they have a flavour that makes them as irresistible as cherries. They are a puff of cinnamon and cotton candy.
I know we can't live off these plums, and even collecting the windfall is a questionable practice. My friend's 4 year old saw me harvesting on my knees and told me he wasn't allowed to eat things on the ground. But they make me wonder.
They say Macintosh apples are on a price rebound, and I've heard rumours of a nectarine revival.
Is racing toward money always the wisest thing?
We'll see once the order goes in for next year's planting.
See you next Friday,
Tyler