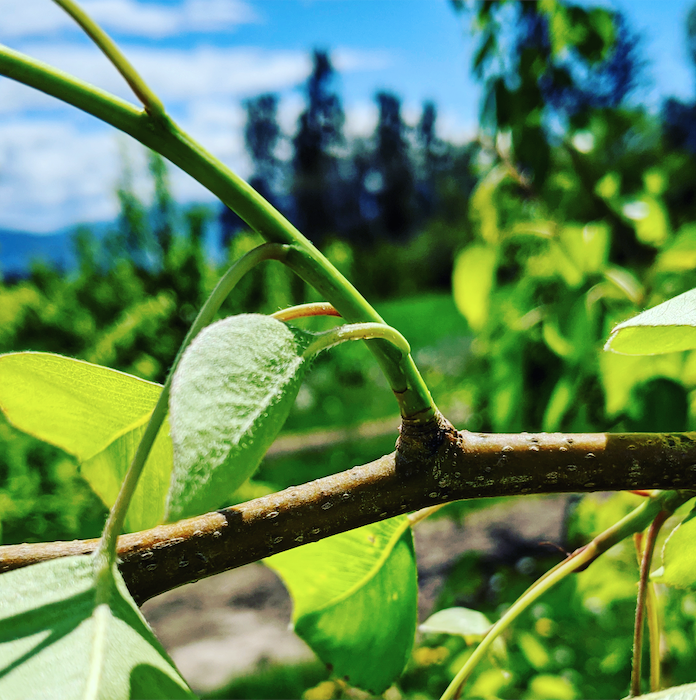 Pictured above is 2021 green growth coming out of older wood. To remain healthy, the shoot needs light, water, and some nutrients. Plants have a basic checklist that anyone can follow.
Winemaking does not have a universal checklist: it's determined by what you want the end product to be.
If you consider wine to be a living food product, you take one approach. It requires clean ripe fruit, hand scrubbed vessels, and a couple of skilled bodies making decisions based on sight, touch, taste, and smell. If things are on track it's easy.
If wine is a fermented grape beverage, it really is a recipe and process follows a textbook. The juice gets adjusted so it matches lab-tested numbers, a ferment that veers off course sees chemical or mechanical manipulation, and post-ferment there's plenty of time to convert the wine to a specific flavour.
Regardless of winemaking style, whether it's lo-fi or engineered, a consultant can tailor the process, meaning it's comparable to farming.
The next step of an operation, after growing the grapes and making the wine, is selling the wine.
I've wondered if the rules a farmer uses and the rules a winemaker uses can be applied to sales.
Here's an attempt at sales basics. (1) You need to have a product. (2) You need to identify a marketplace. (3) You need to get product to marketplace.
1. Having a product means understanding what it is you're selling. If it's not a cheap fermented beverage - and only a few large producers get to deep discount - then you're in a fixed market with a very limited capacity. It's easiest if you're a consumer in that market segment, because you can mine your own behaviour for clues. I loved the bottles from side street cafes, recommended and poured by the establishment owner: delicious and local wines that weren't really for sale.
2. Identifying a marketplace means finding your customers. Early on I didn't limit the liquor stores I sold to, leaving bottles in places where they weren't going to move. It's nice to discover great back catalogue wines years later, but it's not helping the owner of the liquor store or her customers.
3. Getting product to marketplace means having product available for your customer. Even if your wine is featured on your online store, the "buy" icon has to show up on your customer's phone. Even if your wine is listed at the trendy wine bar, the staff has to have enough interest to sell it. Even if your tasting room is on the winery route, you have to compete with every other business with a sign and a parking lot.
Sales aren't simple. How did that last wine purchase find you?
Another thing I know is that the very first example from the picture above doesn't tell the entire story. It's possible that you walk by that young pear branch tomorrow, and the tip is infected by powdery mildew, the result of an imbalance in nutrients, water, and light, and some bad luck.
So even the rules we make are part of a balance, constantly being tweaked.
See you next Friday,
Tyler