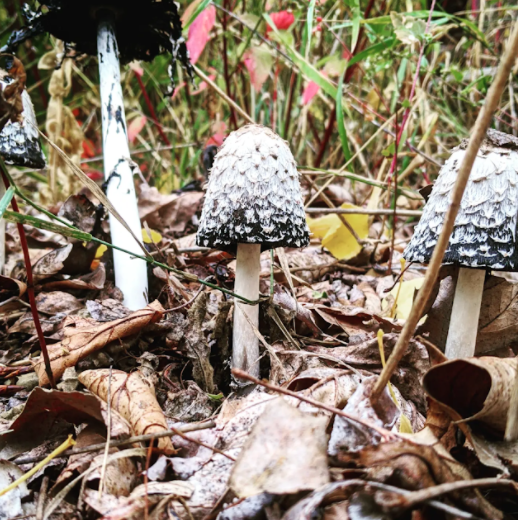 Mushrooms on the Property's Wetland
The race to finish harvest is over. The Big Rain loomed quite a few times to accelerate projects, but the season-altering weather event never arrived. If you stick a shovel in bare soil, it's still dust beneath the surface. I can't remember if it's been four months or seven months since we had a good rain; we've been busy.
A farmer should be walking around with a shovel and getting to know the land, but the work gets in the way. Harvest looks like a million footsteps falling on a grid in the winemaking area, and the brain is following the same path across charted territory. The best work happens when body and mind are focused on the task. The job needs to get done.
Too much of that though - all-in on the job - stunts progress. The interesting things and the inspirations are off the beaten path, literally.
Dana found a pear tree that grew from seed on the east property line. It lacks a lot of the traits that plant breeders are interested in: large fruit, sugar/acid balance, heavy yield, and good shelf life. What makes it different also makes it special. The tree's parents were likely selected, known varieties, but this child is the only of its kind on the planet. The fruit is small, bitter, sparse, and doesn't store well. We'll keep this tree.
I was in the wetland today and I came across this mushroom patch. I know next to nothing about mushrooms even though I work with another fungus: yeast. As a winemaker I know that if I set the table in a certain way (good fruit, cleanish vessels, predictable temperatures, control of air contact) I get rewarded with a delicious wine. I think the same applies for mushrooms: if nature lines things up just so, a specific wild mushroom will pop out of the ground.
If wild mushrooms are anything like authentic, delicious wine, they aren't the sort of item you can select from your grocery store delivery service. You have to carve out the space to be in the wild, your body and your mind.
Tomorrow is the perfect time to go deeper into the wetland. Unlike an untimely rain or whatever else we tell ourselves to stay on the beaten path, Winter is coming and all that's fleeting and flavourful will be gone for the season.
See you next Friday,
Tyler
PS Don't stick wines or mushrooms in your mouth unless you know what they are.