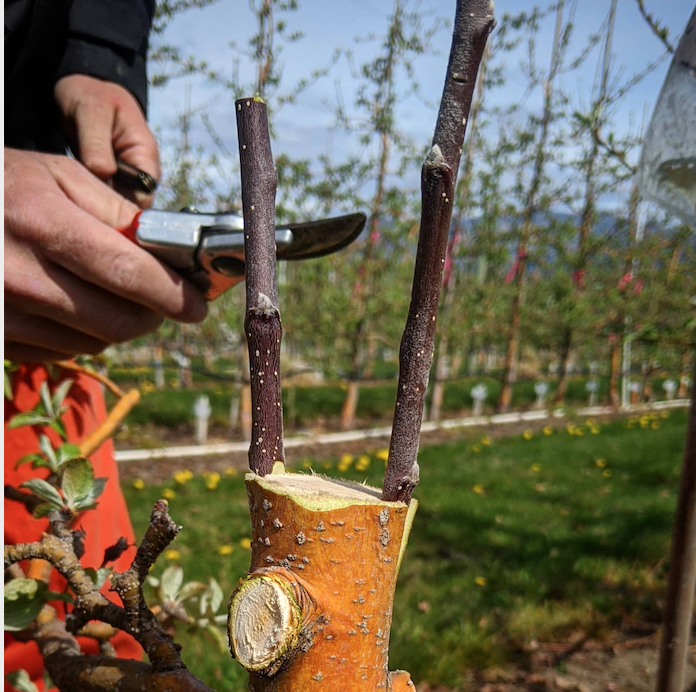 apple scion wood grafted onto the host rootstock
Those two pieces of dormant wood rammed into the bark of the rootstock will turn into a full-grown apple tree.
The field tech does this grafting work every year, combining the traits of the rootstock with traits of the scion.
It's a predictable partnership resulting in an improved tree.
Nature makes this connection look easy. But in business, it's not so.
From the winery experience, I'd say that money harms connections.
It's not having money to properly compensate an employee.
Not having money to meet a grower's payment deadline.
Not having money to pay for a piece of equipment.
In the best situation, reasonable people are on both ends of the agreement. You're dealing with employees, growers, and suppliers who understand what it means to be in need, and they recognize that your ask is a last resort. It's not a reflection of how you operate a business.
During the winery's early years, perpetual cash flow problems forced the business to be on the asking side. It wears on you to be a slave to money and it sours relationships, but if you survive you'll emerge with the bond of trust with those who shared the journey with you.
The other effect of the embarrassment of not living up to your end of the bargain is that you understand what it's like to be on the other side when you deal with late payments, reneged contracts, damaged equipment returned, or other letdowns.
It feels terrible to call someone you trust and ask to alter payment terms, but it's equally distasteful when you feel like someone is taking advantage of you. A business connection gone bad makes you think all sorts of things about the other party, but as you learn with experience, the reality may be that a dollar shortage accounts for the behaviour.
One certainty is that it's impossible to predict the viability of a business partner. It's why the field technician - who's got a lifetime of knowledge working in his favour - still makes a second graft. So that if the main one fails, the backup is there.
See you next Friday,
Tyler