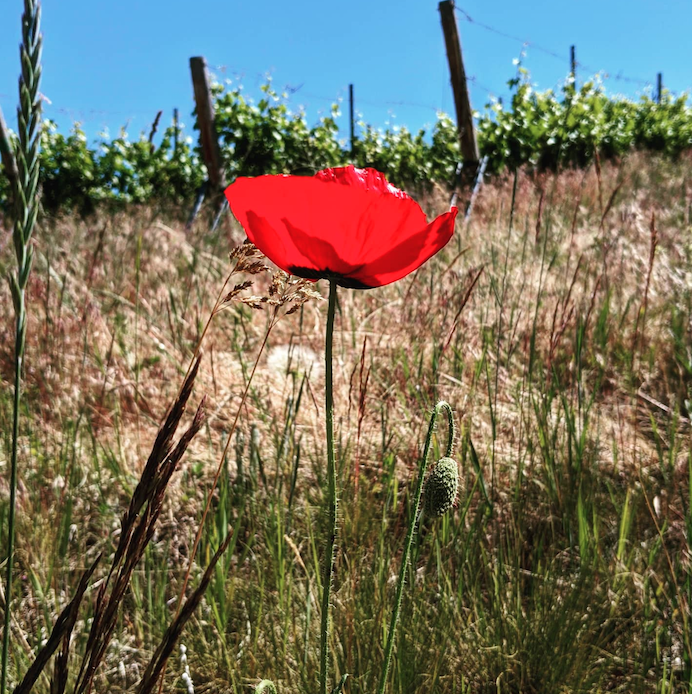 Poppies. Very Happy Co-existing With Vineyard
The Dream Farm email was about a time in 2009 when marmots overran my newly-tilled leasehold, the owner reneged on the lease, and I was unsuccessful transplanting the nectarines and plums the following spring.
The main takeaway: it's best if your business fails early if it's not a great idea.
That farm's failings were numerous; I'm trying to remember them as we launch into the new farm. (If you'd like to follow that farm you can leave us your email here.)
There were some things I didn't do well.
I installed the deer fence myself. Though the help was spirited - friends imported from Toronto and Baltimore for a "holiday" - inferior materials and assembly meant that we'd have to chase them out at dawn and again at sunrise. They didn't miss a day while we did.
The compost pile acted like a vegetable dump and not living soil in the making. I was proud of myself, driving around to Oliver grocery stores and collecting their waste, but I didn't understand how compost lived and breathed. I threw some vintage cowpies at the pile one day, frustrated.
I took on too much for planting, and weeds overran the place. It's one thing to say that calling something a weed calls into question your comprehension of nature, but it's a weed if it starves and chokes every single crop. I underestimated the need for skilled labour to free my plants.
Remember when I said that it's best to fail early? I'd like to change that.
At least at the start, it's best to keep the business simple. Focus on a couple of things that are in sight. Get the lay of the land.
For less-invasive agriculture, it means finding the things that are naturally happy on the land. And remain happy even if the deer show up, the soil is poor, and weeds are a plague.
Above is a poppy. We don't lift a finger and it grows. We're on the lookout for more of this.
See you next Friday,
Tyler