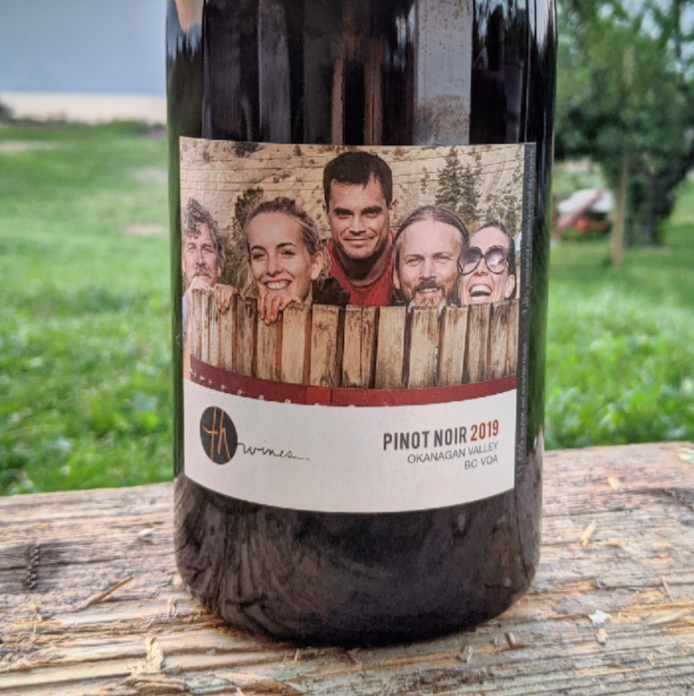 Harvest 2019 Gang in the Basket Press
You'll notice from Donna B's Pinot Noir Magnum picture that there's a smiling bunch tucked into a press basket.
They are the 2019 crew, an assortment of hands that we brought together to make the last TH Wines.

From Left to Right.
Emma remembers my very first "winery": the little cabin in Oliver with the gamay barrel in the cellar. In September 2019, she joined us as a recent high school graduate about to embark on a round the world trip. By the time she and her backpack hit their stride in Portugal, Covid lockdowns sent her home prematurely. She's starting her second year at University of Victoria; in the second half of her first year she took online courses and skied every day in Fernie. When asked if she missed winemaking she said yes. But didn't elaborate.
Josh (often mistaken for singer Robbie Williams) was with us again in 2019 after working the 2018 season. He was our on-site wine expert with a winemaking knack, and a fellow fan of the Saskatchewan Roughrider teams of the late Eighties including the championship 1989 squad. He considers the Rosie-Nat he made in 2018 (a combo of his nickname Rosie and the wine style Petillant Naturel) a great achievement, right up there with discovering the Polish Bistro in Penticton. Josh will move onto studies in computer networking, but would work in wine education if time allowed.
I talked briefly about Kevin last week, someone who I was lucky enough to first meet at Cam and Dana's farm years ago. That night, he and Cam prepared salmon three ways. I thought two was a stretch, but I've learned that wild food, by definition, has no limits. You can watch his journey, including the intersection of his story and our harvest, by downloading episodes. I've appreciated the adventures in the wild, but it's the fireside/kitchen chats that have left the biggest mark. Kevin joined us in the middle of his busiest work year to date; I think we caught him between the West Coast and Ireland.
Clara wrote yesterday to say that she's about to start the Camino de Santiago in Spain. She also said that she broke another wine glass. I am surprised by neither. Clara came to us via Calgary and the fit was immediate. In addition to the winery work, she taught Spanish, bottled with Artus, made soap from the Cab Franc lees, and spent every ounce of energy connecting with the people and the place. I think we had three going away gatherings for her. She deserved a week.
While you may be less familiar with some of the names, that's not the case with Vicky. She was the second set of hands at the winery, but on the day of the picture she didn't jump into the press basket. She was probably too busy running the winery. Vicky moved from TH Wines to her new family at Lightning Rock after we sold the last bottles, not missing a beat in her Summerland life of raising her family. She's busy with her new pup and a new boat, and if my guess is right her garden at Crescent Beach is paying off for all the work she did this spring.
I hope the image gives you a smile today, and if you've got any reds with this label on it I'd hold for a couple more years.
Talk to you next Friday,
Tyler