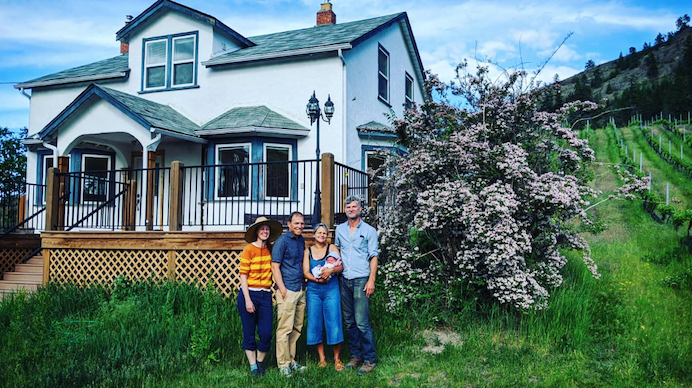 In Winter 2018, I quoted Bruce Springsteen, saying that I was looking for a partner and a little fire in the business. It didn't happen, so I stepped away to recharge.
In Winter 2021, I looked at a Summerland farm with my pregnant partner Taylor and future business partners Cameron and Dana. That led to this: our purchase of the farm from Paul and Jayne of Saxon Winery.
The property has been organically farmed, and we're lucky to have great farming neighbours including Dominion Cider with whom we align on land use ideas.
It's both a blank canvas and a stunning property, a place to put our collective backgrounds to work in farming, wine, cider, baking, butchering, foraging, and all things hospitality.
Once we settle on a name we'll let you know, but for now we have one request.
We are going to rent the house out for summer/fall. It's a 100 year old place with the nicks and scrapes of a living farmhouse. 3 bedrooms, 2 bathrooms, and some interesting nooks, including one that has a washer and a dryer, plus a hot tub facing the sunset. There is no AC, and during the rental we'll be farming the property. So it's not a typical rental.
High season prices are very high in the OK - over $400 per night - but we're looking for half that for a tenant who is looking to rent into the fall. Please email me and I'll pass it on to the crew.
See you next week,
Tyler