SUPPORTING ALBERTA HOSPITALITY - Cab Franc 6 pack benefitting AHA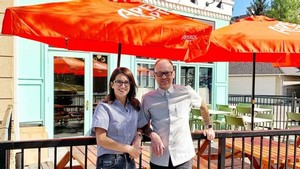 Leslie Echino of Alberta Hospitality Association -
Photo Credit: Eat North
When we started selling wine in 2012 we had no tasting room, so we counted on restaurants for sales, and more importantly, for telling our story. It's a debt that we haven't forgotten, particularly in Alberta where we sell a large portion of our wine.
Because we remain close to our restaurant friends, we know firsthand the degree to which that industry has been brutalized. This story of their hardship is one we want to share. To do our part, we'd like to support the Alberta Hospitality Association by donating $10 on every AHA 6 pack we sell.
We're sharing a special Cabernet Franc that we made last year with a great hospitality friend James Langford-Smith, the General Manager of internationally-acclaimed Vancouver restaurants Bao Bei and Kissa Tanto. Tyler first met James in the early years when James sold Tyler's wine while working with Chef Lisa Ahier at Sobo in Tofino. The two remained friends, and for this last vintage they decided to make a wine together, featuring the label design of Angela Morgan, Tyler's sister. Only four barrels made.
This wine had originally been intended for James' restaurants, but they've been shut down. The new intent of this wine is to raise hospitality awareness. The sixpack includes 3 of the Tofino label Cabernet Franc 2019 and three Cabernet Franc 2018. The price is $220 all in, which includes shipping. Please share news of this offer.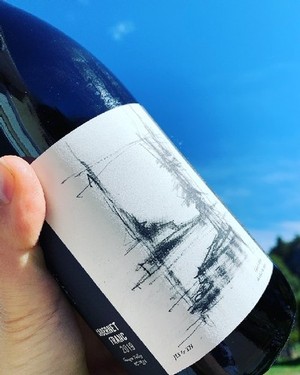 PACK INCLUDES:
3 x Cabernet Franc 2019: Only four barrels made, wild ferment low sulphur unfined unfiltered British Columbia fruit.
3 x Cabernet Franc 2018: 90+ score from John Schreiner, alive with wild berries and natural Okanagan terroir.
$220 including free shipping. Click here to purchase.
Okanagan tasting rooms won't be open anytime soon, but we encourage customers to support their favourite businesses with online purchases. You can also help by sharing our stories. As we know from our experience with restaurants, the validation from a trusted source is priceless.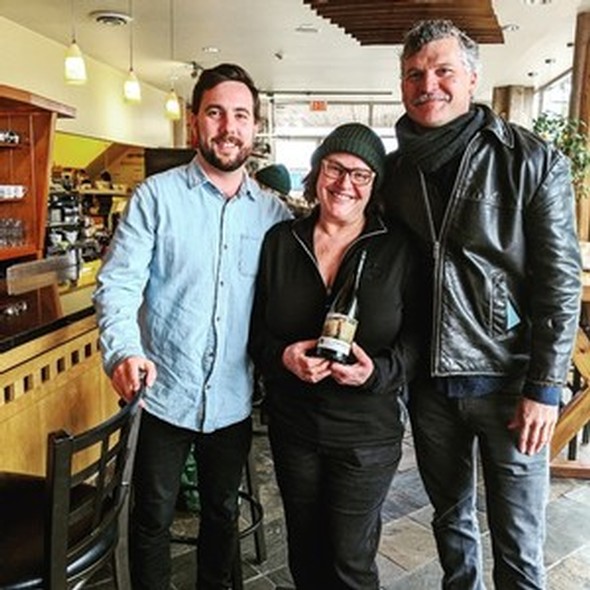 Tyler and James with Chef/Owner Lisa Ahier of Sobo in Tofino.