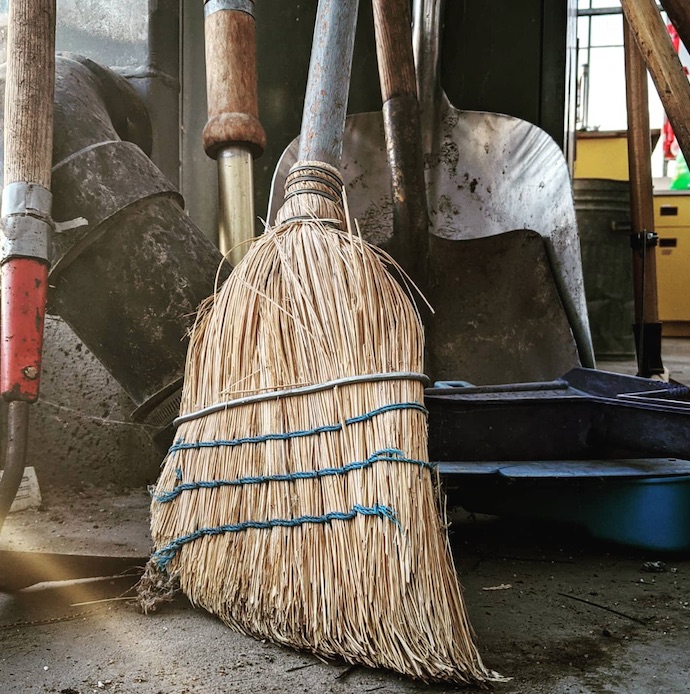 Before you go straight to crazy and sign the lease, you've got options like doing basement trials or getting a full-time position in the field.
Somewhere in between youtube dabbling and a 40 hour job is another option: show up at your dream business with your work clothes on and stick your toe in the door. Then put on the cleaner hat.
You want to learn how to make wine? Materialize at the end of a busy day and clean the crushpad.
You want to learn about being a small grocer? Clean up the clerical entries in their books.
You want to learn how to operate an online teaching business? Clean up the inbox of a successful teacher.
You want to learn to farm? Jump into the farmer's wash station and clean the greens.
I'm making it sound like the path to learning is cleaning - an idea popularized by Karate Kid - but it's more like getting proficient at the work that people don't like doing.
And just like Karate Kid's practice of car waxing as punch-blocking, on the ground you'll be sharpening your business owner skills.
It's the nature of ownership that you're responsible for the shitty work, at least at the start, and the better you get at effortlessly knocking off tasks, the more successful you'll be.
Finally, as you're learning about your target business and building skills, you're learning about yourself.
What do you like? What don't you like? How do you minimize the dislike?
For me, I didn't like cleaning and maintenance. Calibrating instruments. Fixing glycol systems. Pulling grape skins out of the destemmer. Measuring out additives.
So we swapped out equipment and plugged in extra labour and creativity, which is not the modern way.
It worked because the effort resulted in higher quality; in the realm of wine a human can make more interesting wine than a robot. Not only did our risk pay off, making wine by hand is what we became known for. It gave us a head start on marketing.
It's not the case that every small business should eschew technology, and definitely as businesses scale, it's highly regulated operating procedures that make things tick. Not the skill of the operator.
Or maybe I'm wrong? Please keep letting me know how this writing intersects with your past/present/future business. It's good to connect.
See you next Friday,
Tyler