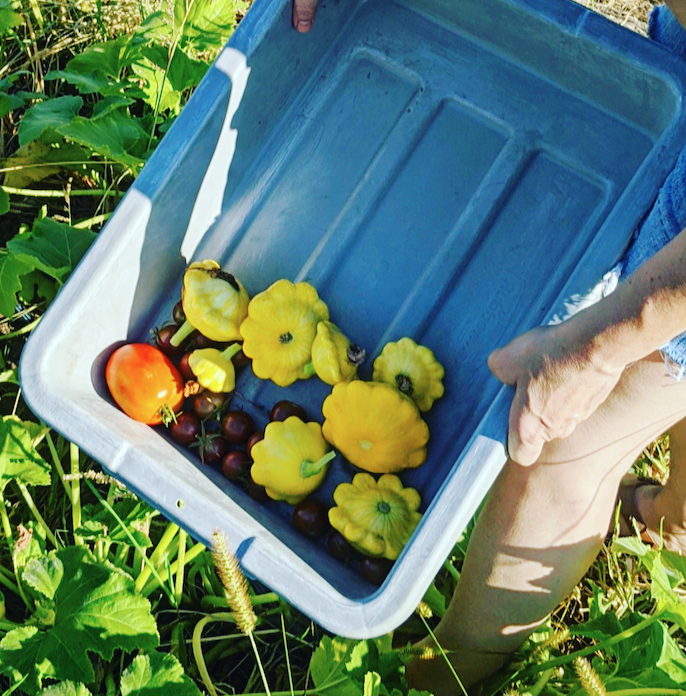 small patty pan harvest this year
Grape bins are circulating the length of the valley, reaching all the way north to the cooler sites. Winemakers had been waiting on the combination of sugar in the berries, flavour, and empty tank space. Right now they're saying Go.
Once the bins are loaded, grape growers get the brief satisfaction of capping another farming season. It's like pulling your garlic or picking the last tomatoes before the frost.
What's particular to the grape growers in the Okanagan is a specific calculation: is the tonnage we just pulled off enough to cover the bills?
Money is tight for the winemakers too: I remember our first vintages when purchasing decisions were easy: spend every cent on grapes and innovate the rest of the process on a shoestring.
You'd think growers and buyers would be aligned, both short on resources and dependent on a healthy crop.
But it was easy to adopt the us-them mentality. The narrative goes like this: growers were the millionaires with land and equipment and we were the ones with no safety net. It meant that when we as fruit buyers made demands - like reducing the crop load, picking on short notice, waiting another day for the grapes to dry after a rain - we expected no complaints from the farmers.
This year of farming vines reminded me of what it's like to be pulling grapes off your own vineyard: the dance of managing costs and vine care while crossing your fingers that nature plays a hand in your favour.
And thinking back to the early years, It helps me to understand the flare-ups when as an inexperienced winemaker I butted heads with growers during the stress of September.
I didn't take it personally then, and as harvest 2021 rekindles these same emotions in myself, I'm reminded to temper them.
The hardship of farming is part of its core; it described the Prairies where I grew up, I've lived it firsthand in the Okanagan, and I suspect it applies anywhere that expectations rest on a piece of financed land.
See you next week,
Tyler